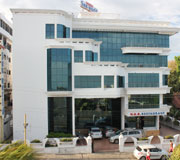 WELCOME TO HOTEL SUN WORLD
Hotel Sun World is situated in kovalm Road,Kanyakumari in the south of Tamil Nadu. Our unique and key feature is that we offer all amenities to suit ones needs. We provide instant reservation with all comforts. There is a lounge area with comfortable chairs and soothing music. Enjoy the sunrise & sunset from the room. All rooms are sea facing. The hotel is elegantly designed with amazing space for parking. Hotel Sun World offers an experience that makes staying worthwhile and makes a stay more complete. Hotel Sun World offer gracefully decorated guest rooms with superb services at reasonable prices. We gracefully combine all comfort and convenience to provide a high standard of accommodation and elegant relaxation to our guests. Hotel Sun World provides an ideal environment for both the business and the leisure traveler. The ever smiling faces of the courteous staff and highly personalized services will make your stay really pleasurable.
ABOUT KANYAKUMARI
Surrounded by Majestic Hills and the plains bordered by colourful sea-shores, fringed with coconut trees and paddy fields, here and there are few elevated patches of red cliffs with undulating valleys and plains between the mountainous terrain and the sea - coast, so closely interwoven with Temples and Churches and other edifices lies the district, 'Kanyakumari'. ( The district name is spelled as ' Kanniyakumari ' in official records which is in tune with the spoken name of the district in Tamil language) . With an area of 1672 sq.km. it occupies 1.29% of the total extent of Tamil Nadu. It ranks first in literacy among other districts in Tamil Nadu.
HOTEL OVERVIEW
Our well-furnished rooms and our hospitality are known to complement each guest's stay whether it is for business or leisure. It is the perfect place for an indulgent experience of luxury and wellness. It continues to be the city's leading luxury hotel for business and leisure. Rooms are created, with an emphasis on the highest quality of materials, with smoke detectors, safe locks, working desks, LCD TV set with satellite reception, In-room 24*7 tea/coffee service facility, direct call phone, high-speed Internet connection and a mini bar. Regardless of why you have decided to visit, be it a short-term visit, long-term business trip, untraditional family holiday or comfortable honeymoon, or just looking for pleasant, quiet and luxury stay, Hotel Sun World is created especially for you…!